Ba Jammung gives you a unique opportunity to learn more about the music and the culture of West-Afrika during a 15-days musicworkshop to The Gambia.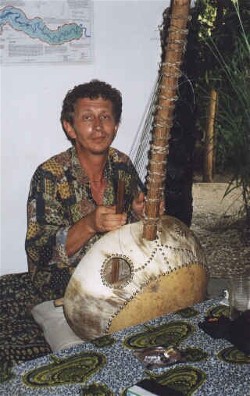 Many of us know the African percussion instruments. The stringed instruments from this area however are rather unknown. That is our reason for paying more attention to these instruments, particularly the kora.
Initiator of Ba Jammung is Carel van Rijn, a Dutch musician, music professor and composer, who acquired ample knowledge of the music and the culture of W-Africa during several trips to this region. He got struck by the magical sound of the kora. Carel van Rijn will lead you into the astonishing world of the kora and will be your tourleader during the workshop. The maximum number of participants during the workshop is 8, so we will disturb the domestic culture and the way of life as little as possible.

Beside koralessons we also offer now the possibility for lessons on other specific W-African instruments such as: bolonbato (basskora), kontingo (kind of fretless guitar), Susa (1 string violin) and balafon (African marimba).